In collaboration with Sofacompany
New season new sofa! I'm super excited to be sharing our new sofa with you. After months of searching for the ideal replacement of our super old sofa, (which was not only terrible to look at but also not comfy at all) we have found THE ONE. Meet our new favourite interior piece in the living room, our 3-seater sofa Nelson from the Danish interior brand Sofacompany.
The living room is probably the room we spend most of our time in. We work, eat, and hang out in the living room. That's why we wanted a new sofa that would not only complement our interior design style but especially be comfy. Especially at a time like this where we spend every day at home we really looked forward to updating our current living room. Therefore, we needed a stylish new piece of furniture without compromising on the comfort part. Sofacompany did not disappoint!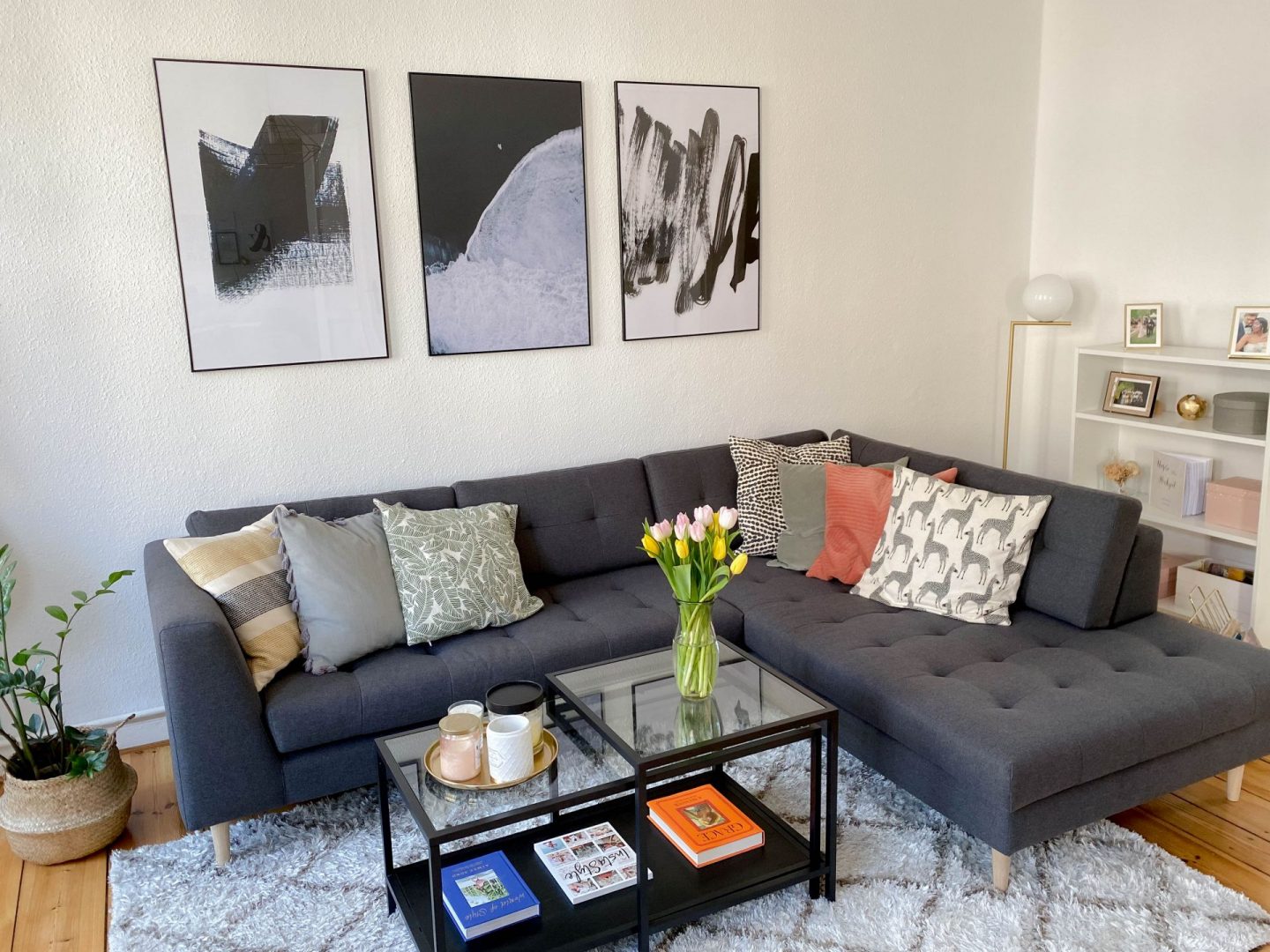 Thus, when we had the opportunity to work with Sofacompany we couldn't say no. I had heard a lot about this company and their amazing Scandi interior design pieces. But apart from all the beautiful Danish furniture pieces, I was most excited about being able to customize our sofa. This is one of the many amazing services Sofacompany provides. After weeks of customizing, trying different fabrics in terms of colour and sturdiness, we fell in love with the Nelson Corner Sofa with open end in Olena Antracit. This is one of the standard textiles the Nelson is available online.
Online Experience
It's not every day that you order a sofa online. At least not for us. We purchased our last sofa in the store where we sat on it and really got a feel for it. However, when ordering our sofa online at Sofacompany we felt very confident. For one because the shop offers endless opportunities to customize it. However, another highlight of our online experience which really helped with our decision-making was the opportunity to order fabric samples. Yes, guys, this is yet another lovely service Sofacompany provides. You can order 5 fabric samples free of charge. That's exactly what we did. We loved touching and feeling the different fabrics. Since we couldn't decide between different shades of navy blue (me) and grey (my husband) at first, having the fabrics at home and getting a sense of how soft or sturdy they helped us agree on one.
Additionally, we also visited the Sofacompany showroom here in Berlin to make sure Nelson was the sofa we really wanted. The sofas are online just as beautiful as offline and it's much easier to pick your favorite design, customize it and order it. However, I'm so bad at making a decision. I always doubt and therefor it takes ages for me to be satisfied with my choice. This was especially the case this time considering the big acquisition. So going into the showroom and having a little test sit on the sofa, comparing the fabrics again and getting some needed advice from the lovely Sofacompany employees made our decision so much easier. We fell in love even more and once back home immediately ordered our Nelson in the colour Olena Antracit.
Still, you will not need to visit a showroom to be convinced! The sofas are online equally amazing. 🙂 Plus, Sofacompany also offers amazing customer consultation via phone, chat on the website or mail (beratung@sofacompany.com). Rest assured that you will be perfectly assisted so you too can find the perfect sofa for your home. This, of course, comes in especially handy since the showrooms are currently closed due to the current lockdown situation.
Nelson, 3-seater, corner open-end right, Olena Antracit
Photo © Sofacompany
It took 2 weeks for our new uncustomized Nelson sofa to arrive. We ordered the sofa exactly as it is offered online. Even though we would have loved to customize the fabric just for the fun of it, we decided to go for Nelson in Olena Antracit. It was already our dream sofa the way it is offered online. We love the versatile grey colour, the 16cm high feet in Oak Soap. We are simply in love with our new sofa. Simply said: Top quality at a great price (1.599 €). The Nelson sofa has the following specifications:
Height: 76 cm
Width: 264 cm
Depth: 93 cm 198 cm
Seat Depth: 56 cm 168 cm
Inside Width: 208 cm
Seat Height: 44 cm
Legs: 16 cm Okay Soap
Width of chaiselong: 105 cm
Comfort & Quality Of Our New Sofa
The shipping was very professional considering the current situation with social contact avoidance. Our Nelson arrived properly packed and had no flaws at all. No screws were missing (we all know this situation) and we were even sent some extras. Also, the setup of the sofa was probably the easiest we've ever experienced. It took us about 20 minutes for everything to be set up, no joke. After moving the sofa around a couple of times we had also found the perfect spot in the living room.
After two weeks we have to say we love our Nelson sofa more and more each day. The pads are just right, which makes for a comfortable sitting. The Olena Antracit fabric is sturdy yet not too rough. It's the perfect shade of grey for us, not too dark yet not super light so we don't have to worry about stains. The classic look with a modern touch is exactly what we were looking for, in our new sofa. The design is minimalistic and elegant and we love the 50s touch with the button details on the backrest pads. And we're very sure that even when we move out, our Nelson sofa will look gorgeous in any apartment we'll end up living in. So all in all the Nelson is a 10 out of 10. Sofacompany really made all our sofa dreams come true.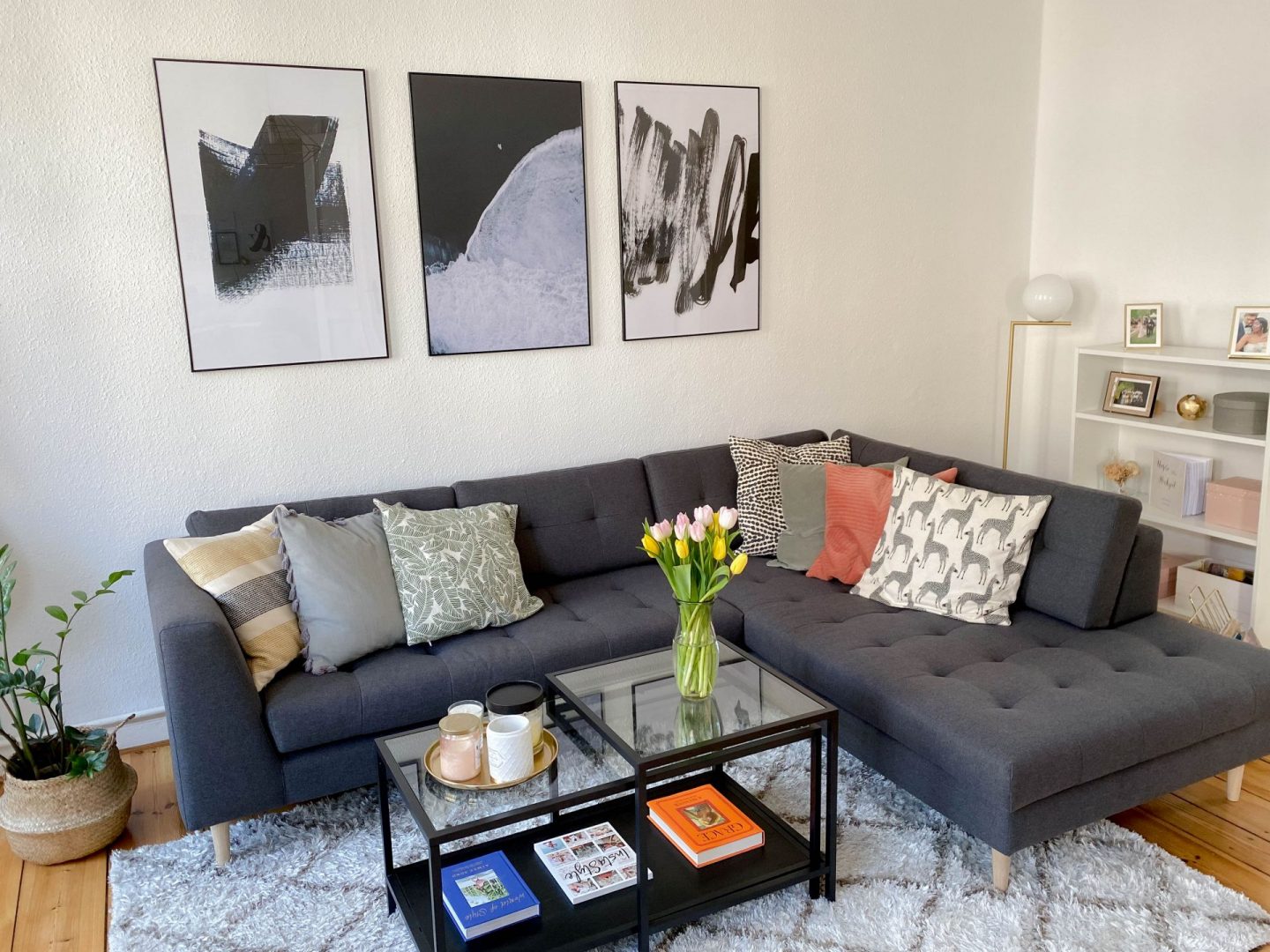 If you're still on the hunt for your dream sofa, don't miss out on these amazing perks. Sofacompany is currently offering free shipping and does not require a minimum order value. How amazing is this? On top of it, you can return (not customized) pieces for free within 30 days. Additionally, Sofacompany generally also provides a 5-year warranty for your purchase except for the furniture frame. For this one, you even get a lifelong warranty.
So what are you waiting for? 🙂